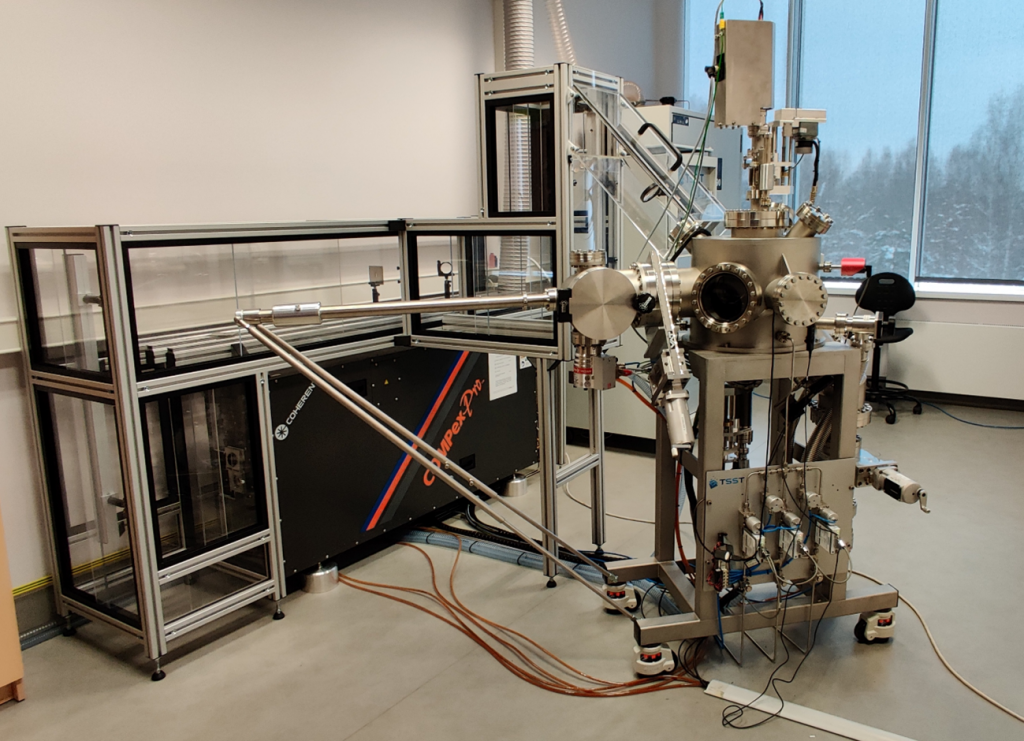 Research area
Creation of single and multilayer structure of thin films for the analysis of structural phase transitions and magnetic properties of various solid-state materials.
Equipment
TSST system: vacuum chamber with base pressure <10-7 mbar, UV excimer laser Coherent Compex Pro 205F.
Features
Different material deposition, such as SrTiO3, BaTiO3, La1−xSrxMnO3, and more.
Variable temperature control (up to 950 OC).
Deposition in the different ambient atmosphere (N2, O2, Ar).
Laser fluence control by a Coherent laser energy sensor.
Some of the PLD-related publications
S. Bagdzevicius, R.Mackeviciute, M.Ivanov, B.Fraygola, C.S.Sandu, N.Setter, J.Banys, "Internal electrical and strain fields influence on the electrical tunibility of epitaxial Ba0.7Sr0.3TiO3 thin films," Appl.Phys. Letters, 108, 132901 (2016).
R. Mackeviciute, S.Bagdzevicius, M.Ivanov, B.Fraygola, R.Grigalaitis, N.Setter, J.Banys, "Strain engineering of elecrical conductivity in epitaxial thin Ba0.7Sr0.3TiO3 film heterostructures," Lithuanian J. of Physics, 56, 173-181 (2016).
Contacts
Prof. dr. Jūras Banys
juras.banys@ff.vu.lt
Saulėtekio av. 3, LT-10257 Vilnius, Lithuania